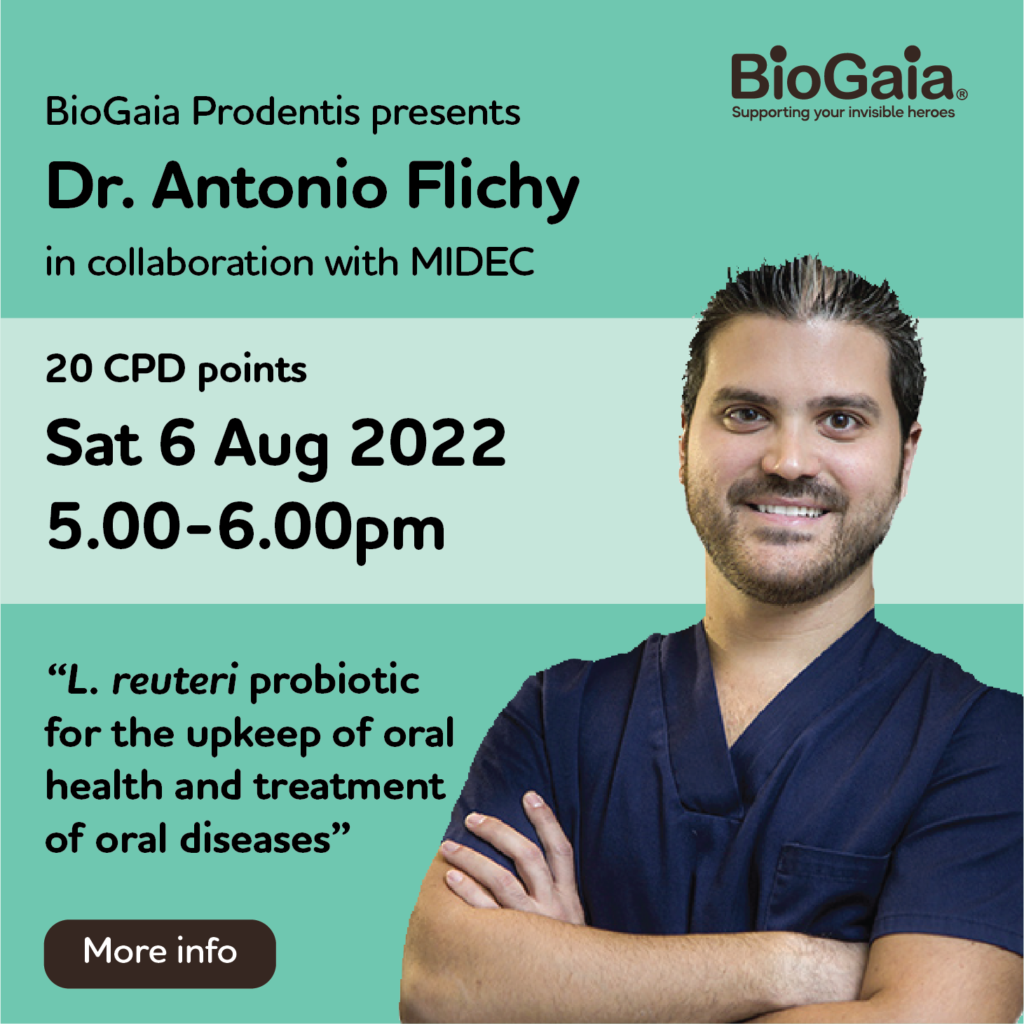 DDS, MS, PhD. Antonio J. Flichy Fernández
Doctor in Dentistry.
Master of Oral Surgery and Implantology, University of Valencia.
Collaborator in Master of Oral Surgery and Implantology, University of Valencia.
Professor in the program of the Postgraduation of Oral Implantology in SCOE.
Invited Professor in Master of Surgery, Implantology and prosthodontics CEPUME in the University of Alcalá de Henares; in Master of Periodontology and Surgical Peri-Implantology of the UCAM; in Master of Surgery and Implantology in the Univeristy of Murcia; and also in the University Rey Juan Carlos of Madrid.
Co-AutHor of Guidebooks and chapters of books of implantology.
Author of papers indexed in PubMed.
National and International speaker about Oral Surgery and Implantology.
KOL of different surgery companies.
Titular Member of SECIB and member of other societies.
Member of the board of SCOI.
Co-founder of the company VIVO-Medical (Video and Voice Medical Device).
Topic: L. reuteri probiotic for the upkeep of oral health and treatment of oral diseases
In this conference we will explain the basic principles and mechanisms of action of probiotics. We will explain its origin and definition as well as systemic and local effects in the oral cavity. The importance of the difference between the different strains even within the same probiotic will be explained. On the other hand, we will explain the relationship of probiotics and their benefit in pregnant women to reduce the incidence of pregnancy gingivitis, as well as their effect on newborn children who after 9 years have less incidence of caries and periodontal pathology. The effect of these for the treatment of periodontal pathologies is also detailed, explaining how they improve clinical parameters and reduce cytokine levels after probiotic treatment, and how similar or even better results are obtained when compared to chlorhexidine.
On the other hand, the effect it can have on peri-implant pathology is explained and how with probiotics we can also improve this situation. Everything is documented with clinical cases and finally we will explain the relationship of probiotics with their effects at the systemic level.
More information: https://web.mda.org.my/midec2022-conference-registration/