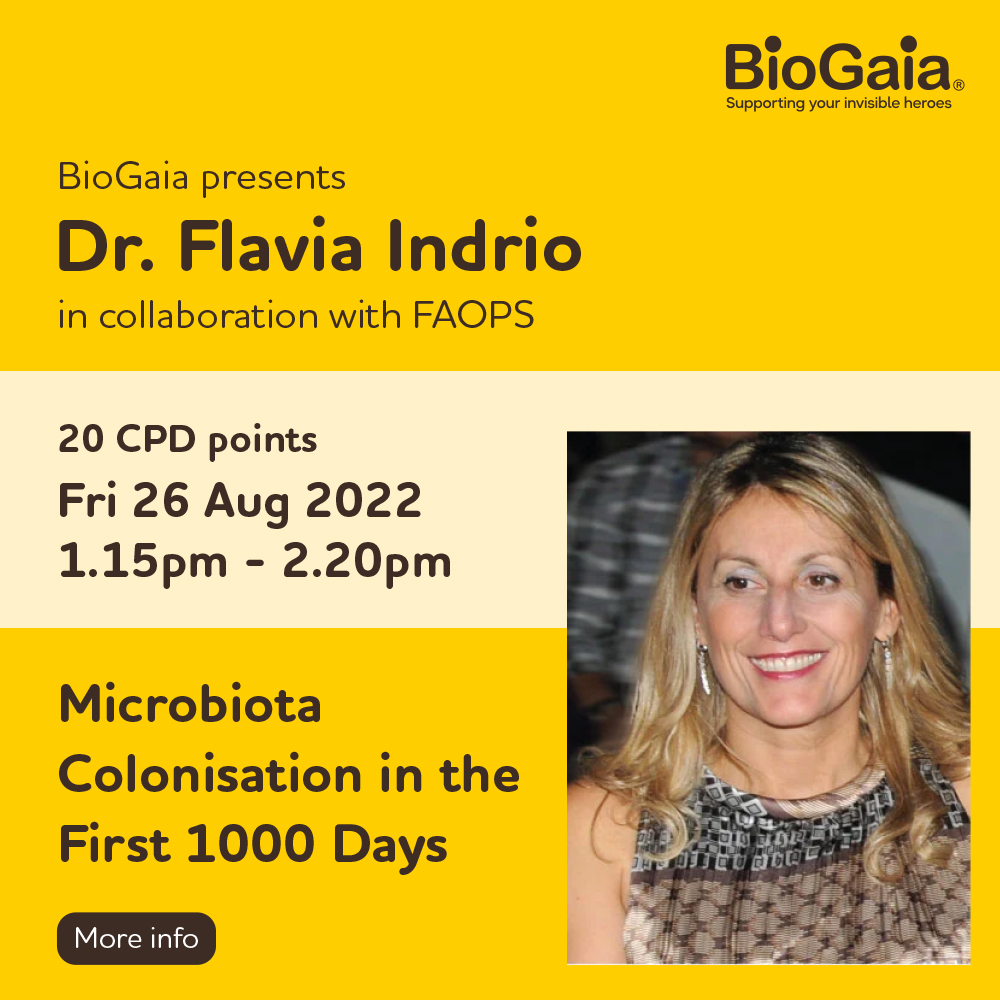 Dr. Flavia Indrio
Senior Consultant in Pediatric Gastroenterology in the Department of Pediatrics University of Bari
Responsible of the Pediatric Gastroenterology and Motility Unit.
Teacher of Pediatric Gastroenterology and Nutrition for the Resident in Pediatrics University of Bari School of Medicine
Tutor for Medical Student at University of Bari School of Medicine
Member of Committee of Nutrition ESPGHAN
Associate Professor in Pediatric
Topic: Microbiota Colonisation in the First 1000 Days
BioGaia is one of the most well researched probiotics in the world and is the only probiotic with scientific evidence in infantile colic. It is clinically proven to be safe and beneficial for gut health from childhood to adulthood. There has been significant development in the field of human microbiome and particularly in the role of microbiome in the first 1000 days of life.
Supplements including probiotics can influence the gut microbiome and researchers have studied the effects of probiotics on early allergies and autoimmune conditions, however it is important to note that researchers have studied, not all probiotics are same and the effects could be strain specific. Dr. Flavia Indrio recommend microbial transfer from mom to newborns for at least 1000 days from conception to 2 years after birth for the life-long health of the child.
Other benefits include management of regurgitation, constipation, functional abdominal pain, acute gastroenteritis and, support of gastrointestinal health and management of antibiotic- associated side-effects. On adults its benefits on colonisation and effects on the immune system, benefits on gastrointestinal disorders and its safety aspects is well documented.
Their benefits and safety in use for all ages is documented and supported by series of scientific and clinical studies. To date 299 clinical studies have been conducted on almost 18,536 individuals whereof 71 studies are on 0 – 3 years old in 8,302 subjects. The results are published in 90 articles in scientific journals. There are 19 studies published as abstracts of presentations at scientific conferences.
More information: https://faops2022.com/registration_fee.php